Online Event
Zoom Cloud Meetings
Organised by Bradford Inner Space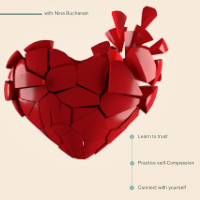 In our search for true love, the subtle heart becomes vulnerable, frozen and shattered into pieces as we move around leaving bits of our self-respect in relationships that fail to satisfy our needs.
How can we reclaim our self-respect, heal and mend a broken heart? How can we give without feeling depleted, drained and without fear of being let down and hurt again?
About the speaker: Nina Buchanan is an articulate presenter, seminar leader and mentor who combines spirituality with problem solving and solution focused in her approach. Her abilities were enhanced through her personal journey, as an Independent Funeral Celebrant, Self-Empowerment Coach, and as a Meditation Practitioner. For the past 23 years, Nina uses values-based dialogues to unite diverse communities and groups.
Join us on Zoom - No registration required - No password to join.
To join the online zoom session please click the "Join Zoom Meeting" button below (Only active at time of event).

or join via zoom platform using Meeting ID: 814 097 6317
Date(s)
There are currently no planned dates.